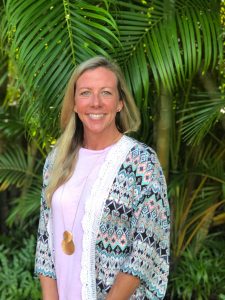 Megan Cassidy became a part of Therapeutic Oasis in November of 2020. Megan is a Registered Mental Health Counselor Intern who works with clients across the life span.  She was born and raised in Palm Beach County. She received her bachelor's degree in Elementary Education from Montana State University. Megan completed her student teaching in Warkworth, New Zealand, where she taught second grade. Megan taught middle school reading in North Carolina and has been teaching at Gulf Stream School in Gulfstream, FL for the last six years. While teaching, she earned her master's degree in Mental Health Counseling from Palm Beach Atlantic University. Having completed her internship at Faulk Center for Counseling in Boca Raton, Florida, she gained experience working with clients across the lifespan with a variety of interpersonal, emotional, and behavioral goals.
As a therapist, Megan walks alongside you on your journey to resiliency, balance, acceptance, and purpose. She works collaboratively with you and encourages YOU to be the guide in the therapeutic process. Megan incorporates mind, body, and spirit connection, working with you in a holistic manner using integrative methods. She uses supplemental techniques to enrich the therapeutic experience and meet your individual needs. Some of the techniques used are play therapy, art therapy, mindfulness, gratitude, and nutrition.  Megan truly believes that you hold the tools to your success, she is merely a guide to help you to recognize your own strengths. She has an honest, compassionate, and straightforward approach, providing a trusting and safe space for anyone who walks through the door. 
Megan has extensive training working with children and adolescents through her years as a teacher and as a therapist. She also enjoys working with young adults, adults, and seniors. Megan has led groups working with young adults on the spectrum, those experiencing grief, and a group to help with navigating uncertain times during COVID-19 pandemic. Megan is trained facilitator in Acceptance and Commitment Therapy (ACT), Mindfulness-Based Cognitive Therapy (MBCT), and Dialectical Behavior Therapy (DBT).
Education:
Master's Degree in mental Health Counseling- Palm Beach Atlantic University
Bachelor's Degree in Elementary Education – Montana State University
Professional Trainings
Acceptance and Commitment Therapy (ACT)
Mindfulness-Based Cognitive Therapy (MBCT)
Dialectical Behavior Therapy (DBT)