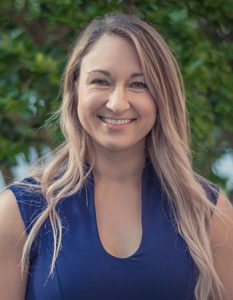 Stephanie Loesel joined Oasis of the Treasure Coast team in October 2019 where she currently serves as the Location Manager. She has an Associate of Science degree in Hospitality Management and Baking and Pastry Arts. She has completed courses with chiefs of industry in the hospitality world and trained with renowned chefs including James Beard award winning Chef Michael Laiskonis.
Stephanie's passion for hospitality goes back to her pre-professional days. Whether she was taking holiday pie requests from her family or heading the decorating committee for her high school's homecoming, she has been on a path of service from early on. Her previous work experience includes roles as Executive Pastry Chef at Windsor Club and Chef Brigade at the Breakers Palm Beach. In 2016, she branched into the corporate world by accepting a position as a Training Specialist at a mental health and substance abuse facility. There she developed courses in customer service, food safety, and professionalism.
Stephanie is also a Registered Yoga Instructor. She earned her 200 hour certificate training with Marianne Wells Yoga School in Costa Rica. Her yoga classes are based on her philosophy that everyone can feel good in their body, mind, and spirit. She uses mindful movement, breathing, and strengthening exercises to help her students create balance. Stephanie is currently completing her 500 hour Registered Yoga Teacher certification which she hopes to finish in 2022.
When she isn't working, she enjoys going to the Crossfit gym to exercise with friends and loves to do sunrise yoga at the beach. At home, she spends time with her husband, her French Bulldog Wilson, and her rescue cat Lulu. Stephanie also volunteers with the Humane Society and teaches a non-profit cat yoga class that funds part of the cat adoption program for Humane Society of the Treasure Coast.