If you find yourself working from home, you may have mixed feelings about it. You're probably grateful to have a job that allows you to continue to work remotely, but may have some anxieties about how to manage work life with home life. During this time, one thing we know for sure is the importance of staying both physically and mentally healthy. Here are a few tips to make working from home more effective: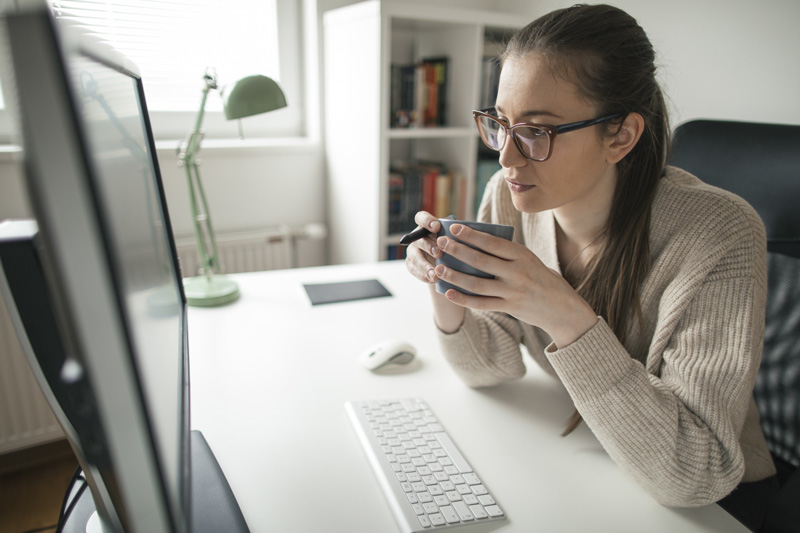 Set a Schedule
When working from home, it's very easy to quickly become unbalanced. Time feels limitless, which can lead to either procrastination or even working too much. Therefore, it's extremely important to set a schedule in order to manage balance in your life. Create a schedule by first instituting a clear beginning and end to your workday, then include time for meals and breaks throughout the day. Starting your workday at the same hour everyday also helps you keep sleep and meal patterns regulated. When your workday ends, it's important to stop yourself from continuing. Bringing work into every moment of your day will quickly burn you out. If you are living with other people, let them know your schedule. If they are also working from home, maximize effectiveness by matching up your schedules so you are both working and taking breaks at the same time.
Create a Work Space:
If possible, establish a place in your home for working. This will help you end your day and not bring work into the living room, bedroom or any other spaces dedicated to relaxing. This will also help you stay organized and establish boundaries in your home with other people, knowing that when you are in this area, you are working and not to be disturbed.
Emails and Communication:
Check emails during work hours only and email in a clear and concise manner when you do so. While working from home, the amount of email communication will most likely be greater than when working at the office. I recommend using a version of the DBT skill DEARMAN to help write those emails.
D: Describe – Be clear on what topic you are communicating about, just the FACTS.
E: Express – Give your opinions, if appropriate.
A: Assert/Ask/Answer – Let them know what you are either answering, asking, or asserting
R: Reinforce – If you are asking for something, express your gratitude for the time the receiver will spend while listening to your request.
M: Mindful – Stay on topic, do not add extra information
A: Appear Confident – Do not ask a question when you are trying to set a limit, be clear on                                             requests you are making.
N: Negotiate – Be open to dialectics and keep in mind that written language can easily be misunderstood. Ask if you can provide any further clarification on the content of your email
Be Mindful:
Most importantly, practice being mindful. Be aware of what is and isn't working for you. Do one thing at a time: When you are doing work, work. When you are cooking, cook. When you are with the family, be with your family. For more on Mindfulness tips, check out Sacred Treehouse and Therapeutic Oasis on Facebook:
https://www.facebook.com/TherapyOasis/
https://www.facebook.com/SacredTreehouse/.
Also, be sure to follow our Life Worth Living blog : https://lifeworthlivingblog.com/