Comprehensive Care
When Clients need more than just weekly or bi-weekly therapy, but are not a candidate for inpatient treatment, Oasis has the depth of experience to provide a more comprehensive level of care. Our Intensive Treatment Programs create a safe space for Clients to focus on the difficult healing process while being supported by experienced and caring professionals. We can also work with your existing primary care doctor and psychiatrist, creating a network of support to manage your treatment.
We offer Intensive Treatment Programs for both teens and adults.
Effective
Therapeutic Oasis has a reputation for working with the most complex cases. The Intensive Treatment Program puts the combined efforts of our esteemed Clinical Team to work for you. Using an Integrative Treatment Plan we use a variety of evidenced based methods to bring healing to the whole person.
Services that may be included with ITP
Individual Therapy (including CBT, EMDR, DBT)
Couples and/or Family Therapy
DBT Skills Group
Nutrition Therapy
Process Group
Psychoeducational Testing
Therapeutic Yoga
Fitness
Expressive Therapy
HeartMath
MBSR
Family Support
Case Management
Dedicated Care Support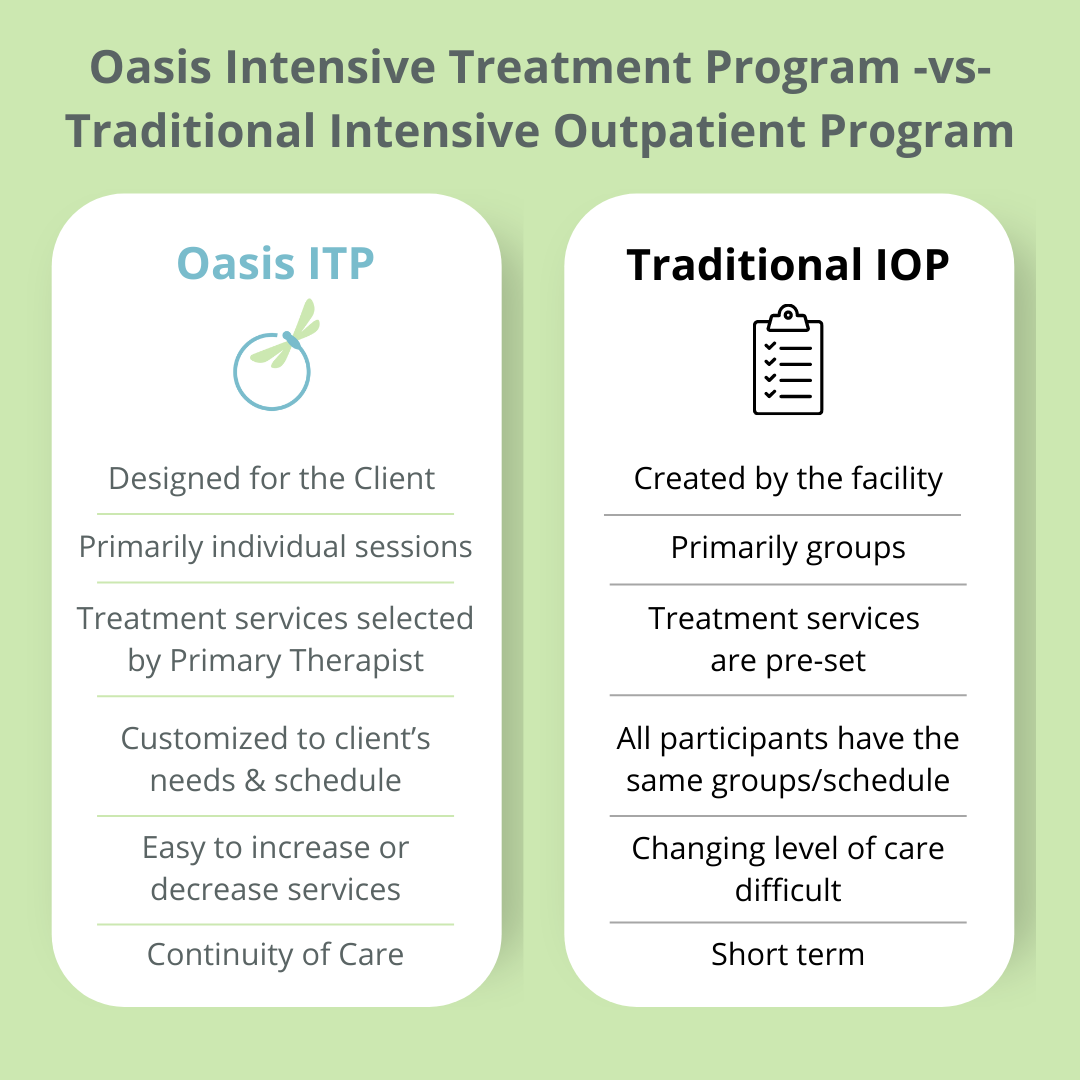 Client Focused
Our Intensive Treatment Programs are unique in that they are created specifically for each client and their individual needs. Programs begin with a thorough evaluation and a comprehensive treatment plan. It is important that clients are informed about the nature of treatment and what to expect. We want our clients to feel safe from the start, which can only begin with complete openness, honesty, and transparency on the part of the therapist and the entire staff.
Our Clients face the challenging work ahead supported by a diverse team of experienced therapists. Program Clients also have access to Care Support, an assigned specialist to provide concierge-like services for scheduling, check-ins, questions, and support. One of the main goals of our Intensive Treatment Program is to allow Clients to work through their difficulties and still be engaged as much as possible in home life. And because each program is created specifically for the Client, we can easily accommodate work and school schedules.
While each Treatment Program is unique, our team has specialized training in the following areas:
A Trauma Sensitive Environment
Therapeutic Oasis is sensitive to traumas endured by our patients.
We offer a tranquil and safe environment for therapy and nutritional programs where clients are able to heal through evidenced-based therapies and nutritional programing.
Learn more about how our personalized Individual Treatment Programs can work for you. 
Call Alexis, our experienced Intake Coordinator to discuss your needs.