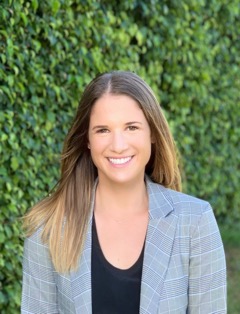 Jamie Ginberg, Psy.D.
Clinical Psychologist
Testing Specialist
Dr. Jamie Ginberg is a Licensed Clinical Psychologist at Therapeutic Oasis and earned her Doctorate in Clinical Psychology from Nova Southeastern University. Prior to attending graduate school, she graduated magna cum laude from the University of Pennsylvania, where she earned her Bachelor's degree in psychology with a minor in nutrition. Through her work in inpatient, intensive outpatient, private practice, and community mental health settings, Dr. Ginberg has extensive experience providing individual, family, and group therapy for children, adolescents, and adults presenting with a wide range of issues.
Dr. Ginberg's particular clinical interest lies in working with clients on relationship issues, body image concerns, eating disorders, self-injurious behaviors, academic struggles, and perfectionism. Utilizing an integrative, individualized, and collaborative approach, Dr. Ginberg will work to increase clients' self-awareness into the maladaptive thoughts that may be contributing to current symptoms and help them manage challenges, increase self-understanding, and achieve their therapeutic goals. Her approach is based on her belief that a supportive, validating, nonjudgmental, and empowering environment leads to positive change. Dr. Ginberg strives to create a strong and genuine therapeutic relationship through her warmth, honesty, and compassion.
Dr. Ginberg's primary area of expertise lies in providing comprehensive psychological and psychoeducational assessments for children, adolescents, and adults with academic, behavioral, emotional, developmental, and learning problems. She has experience in the assessment of giftedness, learning difficulties, intellectual disabilities, Attention-Deficit Hyperactivity Disorder, Autism Spectrum Disorders, mood and anxiety disorders, and disruptive behavior disorders. When conducting evaluations, Dr. Ginberg utilizes a systematic approach, considering the context, such as the family and the school, not just the individual. Once the concerns are clearly understood, an individualized testing battery is selected, designed to assess the client's strengths and weaknesses and to help answer any questions the individual or family may have. Regardless of the reason for seeking services, Dr. Ginberg is passionate about helping individuals and families on their path toward self-improvement and making positive life changes.
Education and Professional Training:
Licensed Clinical Psychologist
Doctor of Clinical Psychology, Nova Southeastern University
Master of Psychology, Nova Southeastern University
Bachelor of Arts in Psychology, University of Pennsylvania (magna cum laude)