DBT for Teens & Families
Numerous studies have shown that DBT is an effective treatment for Teens leading to improved family functioning, parent-teen communication skills, and problem solving. At Therapeutic Oasis, we've seen first-hand how DBT unites and strengthens the Family. We strongly believe that family participation is an essential part of the DBT Treatment Program for Teens.
Therapeutic Oasis is committed to delivering DBT therapy that adheres to the standards set by DBT-Linehan Board of Certification.
Oasis DBT Program
What you need to know
The Teen DBT Program at Oasis is different than the adult program in that it encompases the entire family and not just the individual.
Family therapy is required in addition to individual therapy for the teen.
At least one parent must participate in the DBT Multi-Family Skills Group.
The family is encouraged to participate in supporting their teen througout the program.
Getting Ready for the Journey Ahead
Pre-Program Assessment
During the first few weeks, the individual and family therapists will assess the teen and the family to identify areas of strength and potential growth, and determine if DBT will be an effective treatment.
Once the assessment is complete, the teen and family will be introduced to foundational DBT skills to prepare for enrollment in the program. Additionally, the teen and their Individual Therapist will also discuss ways to reduce harmful behaviors and best prepare to begin the program. It may take a few weeks before the DBT skills group begins.
Commitment
An important part of the pre-treatment process is building commitment to participation. DBT requires a significant investment of time and resources by both the teen and family. Group and therapy appointments are mandatory during the program. Once the Individual and Family therapist agree that both the teen and the family are fully committed to participation in the DBT Program, they will make a recommendation to the DBT Team for enrollment in the 24-week DBT Skills Group.
In some cases, teens may not be ready to participate in the DBT Program at the onset. They may feel too out of control, need to establish safety with their therapist, have a negative view of the process, etc. In these instances, the DBT Team will focus treatment on the more immediate concerns until the teen is ready to join the group.
Discover Wise-Mind Living
In DBT, Wise Mind Living is the meeting of our Emotional Mind and Reasonable Mind. This "middle path" leads to self-awareness, a reduction in reactive behaviors, improved communication skills, and the ability to tolerate difficult situations. Our clients gain the strength to remain both present and calm in the face of painful circumstances. At Oasis, DBT Skills are infused into the core of our treatment philosophy and even in the way we interact with each other!
Therapeutic Oasis is proud to offer highly specialized therapists in Dialectical Behavior Therapy (DBT). Through randomized controlled studies, DBT has been proven effective in treating Borderline Personality Disorder, ADHD, Treatment Resistant Depression, PTSD, Binge Eating Disorder, Bi-Polar Disorder and many other mental health conditions. In fact, everyone can benefit from the skills caught in DBT.
Therapeutic Oasis
4 Stages of our DBT Program for Teens
Lowering Harmful Behaviors and Increasing Skills 
At the heart of the DBT Program is the DBT Skills Group. Parents learn right alongside their teens valuable skills to 
Improve self-awareness

Tolerate uncomfortable situations

Communicate effectively

Regulate Emotions

Walk the "Middle Path"
In addition to skills group, teens will attend weekly therapy and families will participate in regular family therapy or family skills sessions.
Stage 3
My Life Worth Living
Freedom to Explore and Create My Path
When the hard and dedicated work of the first two stages are completed, teens have the ability to look with excitement at their life ahead.  Teens will work with their therapist or support staff on some of the following:
Career assessments and coaching

College planning

Launching from home

Resume building, job interviewing, job-coaching 

Creating new relationships and community connections

Exploring strengths and interests 
Improving Emotional Experiencing and Process Trauma 
After successful completion of the DBT Skills Group, teens have the tools to work effectively on underlying conditions, such as depression, trauma or eating disorders. Their Individual Therapist may move on to other types of therapy (EMDR, Prolonged Exposure, EFT Matrix, etc.) while encouraging the teen to use their DBT skills as work progresses. During this time, the teen and family participate in joint family therapy sessions and, if needed, parents are encouraged to attend couples therapy.
Stage 4
Finding Sustainable Joy
Protecting a Life Worth Living is the final stage of the DBT Program.  This is done by strengthening the spirit and learning to live joyfully.  Options here are endless, but these are a few that have a big impact:
Mindfulness (like MBSR and MSC)

Spirituality

Sustainable and intuitive living

Expressive arts

Service and leadership in the community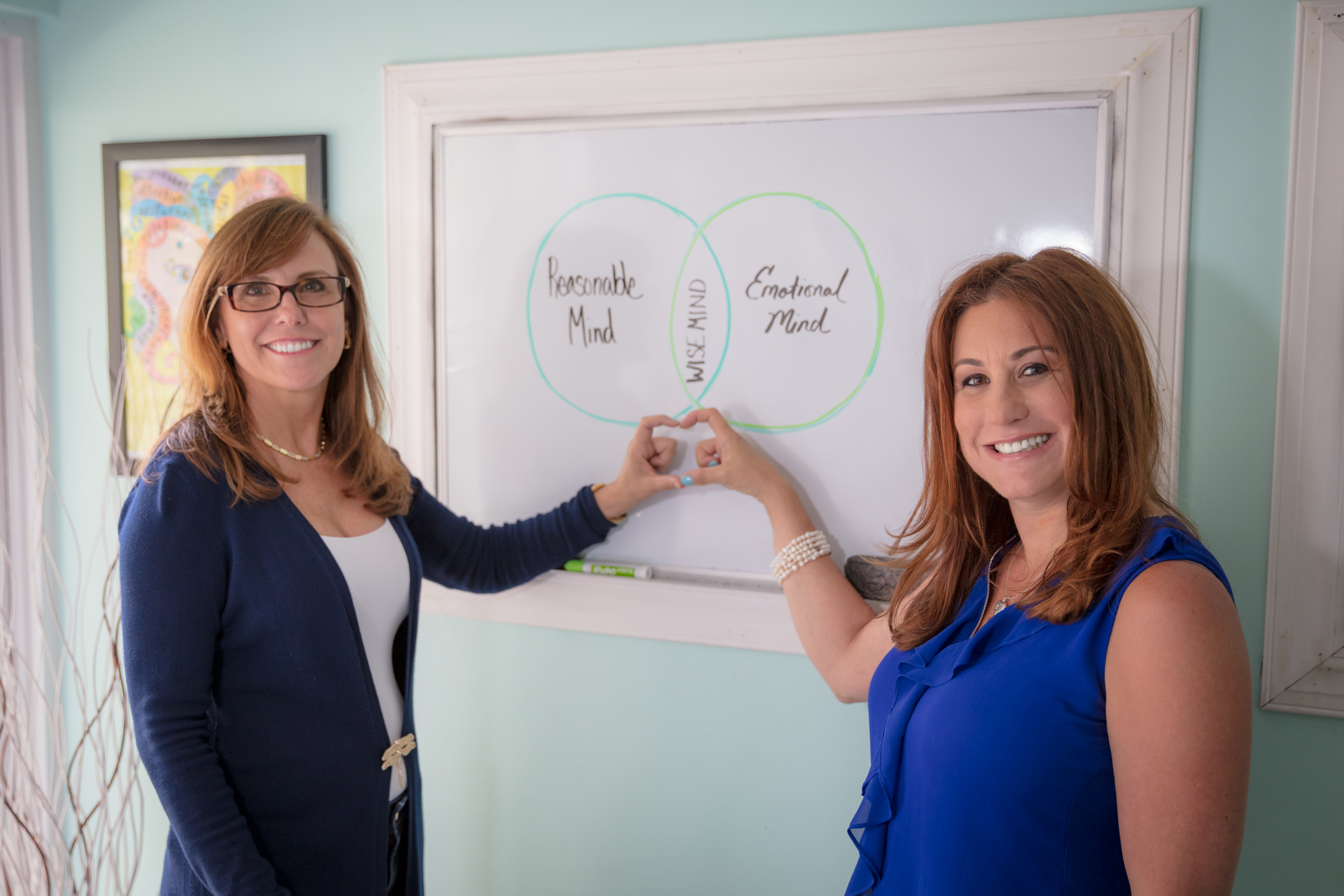 Therapeutic Oasis offers one of the largest and most experienced DBT Teams in Florida. We provide DBT Therapy and DBT Skills Groups in accordance with the methods recommended by the Linehan Institute, including a robust DBT consultation team. We are able to provide DBT Therapy for both adults and teens, including intensive DBT programs.
Intensively Trained and Certified DBT Therapists (Trained Through Behavioral Tech)
Programs for Teens and Adults
Personalized Treatment Plans
Individual Therapy
Weekly DBT Skills Groups
Phone Coaching
DBT Skills Group Intensives
Additional Treatment for Co-Occurring Disorders, including Eating Disorders, Trauma, and Complex Mood Disorders
DBT for Adults and Teens
Therapeutic Oasis offers separate DBT Programs for Adults and Teens.  We also offer WiseUp, a DBT inspired group for pre-teens.
Learn more about our DBT Program for Adults.
Your content goes here. Edit or remove this text inline or in the module Content settings. You can also style every aspect of this content in the module Design settings and even apply custom CSS to this text in the module Advanced settings.
Boca Raton Office
851 Broken Sound Pkwy NW, #250
Boca Raton, FL 33487
Jupiter Office
600 Heritage Drive, #130
Jupiter, FL 33458
Contact Us at
561.278.6033
Connect@TherapeuticOasis.com