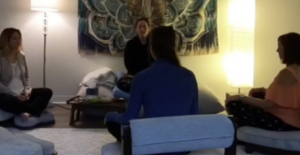 BOCA RATON, Fla. — Stress and anxiety can come from many places, including the workplace.
After seeing a high rate of professionals committing suicide, a Boca Raton clinical psychologist decided to switch up her method.
At Therapeutic Oasis in Boca Raton, it's quiet time.
With the help of clinical psychologist Nicole Davis, women aren't just meditating, they're taking control of their lives.
"Working women, myself included, there's a lot of pressure to be a particular way and it's about acknowledging what our way is and what works for us," said Davis.
It's called Mindfulness Based Stress Reduction. In an 8-week training course using breathing and meditation techniques, Davis said the goal is to help people gain self-awareness to be able to deescalate stressful situations.
See the full video here: