Here we are again. Parents and their children are left struggling with difficult emotions and traumatic memories after the most recent school shooting at Marjory Stoneman Douglas High School. Even if you weren't directly impacted, you may find that emotions are running high within your household.   Anxiety, fear, sadness, uncertainty, and helplessness are all common reactions to a traumatic event. Children may have many questions about the recent tragedy – questions that can be uncomfortable and difficult for parents to answer. Moreover, children already predisposed to anxiety and depression are especially vulnerable. As a parent, here are some things you can do to help you child cope effectively:
Listen and allow your child to react in an authentic way. Be honest with your children and answer their questions with as much information as you are able to provide, using developmentally appropriate practices.
Take a news and social media break. Minimize and supervise your child's access to media coverage. For younger children, this can be as simple as turning off the television. For adolescents, monitor their exposure and set limits on social media.
As much as possible, keep normal routines in place.
Participate in community events such as community vigils, fundraising efforts, social action projects, or faith-based activities.
Focus on the positive. Point out random acts of kindness and good deeds. Reminisce about a happy moment.
Pay attention to worsening anxiety or depression. If your child has trouble sleeping, eating, or concentrating, it may be time to reach out for professional help. Make an appointment with a therapist, or consult with your pediatrician regarding referrals to a professional. School counselors and religious leader also may be able to help.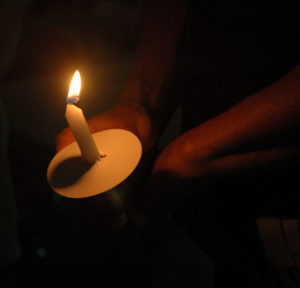 It is especially important for parents and adults to deal with their own stress levels regarding the traumatic event. Take time to process the event appropriately and remember to model reassuring behavior for your children. Navigating tragedies effectively now will help build your child's resiliency to future setbacks and tragedies.
If you need support or counseling during this difficult time, please reach out to Therapeutic Oasis of the Palm Beaches at 561-278-6033 or admin@delrayoasis.com.
Patricia Shutt, Psy.D., CEDS, is a Licensed Clinical Psychologist and a co-founder of Therapeutic Oasis of the Palm Beaches in Delray Beach. In addition to private therapy, Dr. Shutt also facilitates group therapy, teaches meditation, facilitates an 8-week course on Mindfulness Based Stress Reduction (MBSR) and moderates specialized workshops and trainings.
Sources cited:
http://www.pbs.org/parents/talkingwithkids/news/help-kids-feel-safe.html
https://www.schoolcounselor.org/school-counselors/professional-development/learn-more/shooting-resources