WPTV's Sabirah Rayford interviews Therapeutic Oasis of the Palm Beaches' own Dr. Nicole Davis on addiction, recovery and working thru the Holiday season.
https://www.facebook.com/TherapyOasis/videos/715397642281765/
Sabirah Rayford of WPTV for interviewing Oasis own Rebecca Nelson, LMHC on how children deal with grief during the Holiday season
https://www.wptv.com/news/region-s-palm-beach-county/boynton-beach/boynton-beach-police-officer-creates-instant-special-bond-with-5-year-old-boy?fbclid=IwAR0RIidqqqCl5-ECcaapAaFHz1QjXpI2Zk3t7PsNLXWudpZEiy4FIgPev7o
Sabirah Rayford of WPTV for interviewing Oasis own Rebecca Nelson, LMHC on how children deal with grief during the Holiday season
https://www.wptv.com/news/region-s-palm-beach-county/boynton-beach/boynton-beach-police-officer-creates-instant-special-bond-with-5-year-old-boy?fbclid=IwAR0RIidqqqCl5-ECcaapAaFHz1QjXpI2Zk3t7PsNLXWudpZEiy4FIgPev7o
November 25, 2019 CBS12 Tune into CBS 12 News tonight at 11:00pm for this special report on MS Douglas HS in Parkland. Therapeutic Oasis' own psychologist Dr. Patricia Shutt was interviewed for the piece.

https://cbs12.com/news/local/my-floor-was-a-massacre-lingering-trauma-almost-2-years-after-parkland-school-shooting?fbclid=IwAR0nKEjGtq7MQfwntLlIceIMKi8qPO4DvXjDVmF6w6-ZCjU2yrLXnu7VNos
'My floor was a massacre:' Lingering trauma almost 2 years after Parkland school shooting
PARKLAND, Fla. (CBS12) — New documents obtained by CBS12 News show the challenges students face in the months after one of the deadliest school shootings in U.S. history. A rise in depression, drugs and discipline problems. "We're still struggling, trying to fill out those gaps," said Kim Krawczyk, math teacher at Marjory Stoneman Douglas High School. Krawczyk was teaching honors geometry when a former student stormed in and opened fire. "I heard the first three pop, pop, pop," she said. Krawczyk heard the confessed killer reload his rifle right outside her classroom door. The gunfire and the screams eventually stopped  "None of us were prepared for what we saw," she said. "My floor was a massacre." Krawczyk and her students saw Scott Beigel, a beloved geography teacher and cross-country coach, dead in his classroom doorway. She also lost two of her students, Alex Schachter and Alaina Petty. Both students were only 14 years old. Thirteen others died that day and multiple people were injured. Since the shooting, Krawczyk has seen the signs of extreme stress in students, some acting out, others internalizing the trauma. "One of the things we've struggled with was how to teach a traumatized brain? Because they learn differently," she said.
Last year, the U.S. Department of Education granted Broward County Public Schools $1 million in grants to hire counselors, social workers and behavioral specialists. The district is fighting for additional resources to help. This summer, the district asked for more money in grants, citing students falling behind on their coursework and an increase in incidents of self-harm. In the application, the school district said state research shows drug abuse, fighting and threats have all increased in Parkland and all across the district. The letter said from 2017 to 2018, compared to 2016 to 2017, the occurrence of the following incidents have grown: drug use/possession (637 from 511 incidents), other major offenses (367 from 317 incidents), physical attacks (128 from 34 incidents), threats/intimidation (368 from 337 incidents) and tobacco (439 from 127 incidents). Those numbers came from the School Environmental Safety Incident Reports (SESIR), provided to the Florida Department of Education, according to the school district. The grant application also shows Stoneman Douglas has made it into the top 10 high schools in the district battling substance abuse. Stoneman Douglas was not even on the list before the shooting. "You're going to see the incidents of stress-related things go up. You're going to see more absences, more drop outs, more substance abuse," said Dr. Patricia Thomas Shutt, a clinical psychologist with The Therapeutic Oasis of the Palm Beaches. Dr. Thomas Shutt specializes in trauma. Many of her clients are Stoneman Douglas shooting survivors. "It's one of our most basic needs, is to feel safe. Many of those kids lost that experience of being safe in school," Thomas Shutt said. She said the first line of treatment is what's known as EMDR, or Eye Movement Desensitization and Reprocessing Therapy. It's been used to treat PTSD in the military and it targets specific traumatic memories. "It restores a sense of connection with other people, because when trauma happens, not only do they disassociate the actual traumatic event, but it can actually create a separation and disconnection with people and their feelings," Thomas Shutt explained.
Eagles' Haven in Coral Springs, located minutes away from Stoneman Douglas, uses a different approach. "We don't do therapy here. We help people get connected to the other parts of their wellness," said Melissa Rosen, Team Leader at Eagles' Haven. The sanctuary of hope opened after Sydney Aiello and Calvin Desir, two survivors of the Parkland shooting, took their own lives last spring. "A lot of people in the community felt really isolated following the tragedy," Rosen said. "This is a place for them to come together and meet new people." At Eagles' Haven, survivors can try everything from power yoga and kickboxing to art as an outlet to manage their grief, guilt and frustration. "We're making sure that other people know that there's hope there, and wellness is a huge part of that healing process," Rosen said. For Krawczyk, a tattoo and a special gift from the 25 students she protected in her classroom that day has helped her heal. She still checks in regularly on the students from room 1257. "They still have the opportunity to be the person that they were born to be, but it just might be a different road to get there than maybe what they had planned on originally. And that's OK," Krawczyk said.
CBS12 News reached out to the Department of Education to find out if they are reviewing the application from the school district, but are still waiting to hear back. According to Children's Services Council of Broward County, there are even more programs available like Parkland Cares, Professionals United for Parkland and Tomorrow's Rainbow in Coconut Creek.
November 19, 2019 West Boca Times, Boca Times, Gateway Gazette, and The Villager
November 12, 2019 Palm Beach Post
NEW: Boca Raton therapy center opens new location in Jupiter's Abacoa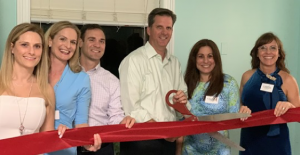 Therapeutic Oasis of the Palm Beaches, a therapy center in Boca Raton, recently opened a location near Military Trail in Jupiter. The center offers a range of therapies to clients.
JUPITER — In the therapy landscape, Dr. Patricia Shutt considers comprehensive care an "essential" part of great treatment.
And it's the level of service she said her clients receive at Therapeutic Oasis of the Palm Beaches, the therapy center she co-owns that recently opened a location in Jupiter. Staff members held the grand opening of its new location at 600 Heritage Dr., Suite 130, just west of Military Trail on Thursday.
"We like to see (clients) all the way through completion and launching them into a successful life," Shutt said.
Shutt — a licensed clinical psychologist with areas of expertise that include eating disorders, trauma and mindfullness training — works alongside a team of professionals with backgrounds that include marriage and family therapy, nutrition and dance-movement therapy.
What's more, they have connections to medical professionals outside of their office that work to clients' benefit, Shutt said.
"We work as a treatment team," she said. "We're very connected in the community."
Shutt co-owns the Jupiter location with Dr. Nicole Friedman, dietitian Christie Caggiani and therapist Clara Bossie. The company was founded in 2013 and has another location north of Florida Atlantic University in Boca Raton.
Opening a second location in Jupiter made sense, Shutt said, because many clients were driving long distances to the Boca Raton office.
She wants to make therapy as convenient, and as least disruptive, as possible.
Speaking at a grand opening event, Jupiter Mayor Todd Wodraska praised the business' "beautiful, welcoming space that you've created here in the heart of Abacoa," according to a news release.
For its part, Shutt credits her team of colleagues. They've built a "very safe, loving, connected community," she said.
She says she has assembled a staff of professionals who are invested in their clients and are committed to helping them in the long run. Rates are generally around $150-$300 an hour, Shutt said.
"We really see this as a mission not a job."
For those seeking a consultation, Shutt recommends first calling the Boca Raton office at 561-278-6033.
Therapeutic Oasis is an out-of-network healthcare provider. It is open from 9 a.m. to 7 p.m. Monday through Thursday and 9 a.m. to 2 p.m. on Friday.
Link: https://www.palmbeachpost.com/news/20191112/new-boca-raton-therapy-center-opens-new-location-in-jupiterrsquos-abacoa?fbclid=IwAR3qLsJscE8mGmecvZlo-RnU24WbfHS4F7K7uby7OD_K_Pox06Xc1uBExUg
November 6, 2019 WPTV Therapeutic Oasis' own Family & Marriage Therapist Clara Bossie talks to WPTV NBC News Channel 5's Sabirah Rayford about a potential Marriage Guide requirement for all engaged couples.
October 14, 2019 Washington Post
Breast-feeding is helping me face my decades-long struggle with hating my body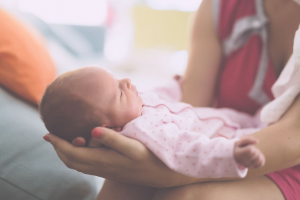 About 30 hours after I gave birth to my daughter, while I was still in the recovery room at the hospital, I saw my postpartum body for the first time. In the mirror of the cramped bathroom, I took in my reflection — my softly bulging belly and loose skin — and I was shocked. But most shocking was that, despite my decades-long struggle with anorexia, this new body didn't disgust me. I was curious and fascinated. I took a selfie.
A few factors contributed to this placid acceptance of my postpartum shape: the euphoria of having just birthed a human; the hazy gloss of sleep deprivation from laboring overnight; and, most importantly, the fact that my baby now desperately needed nourishment from me. In that moment, the only thing I judged my body on was its ability to feed Audrey.
In the days and weeks that followed, this mind-set held. I wasn't surprised that my anorexic thoughts didn't appear. I didn't even register their absence. I'd heard about the high caloric needs of breast-feeding women, and I ate. I did things that I never would have if my anorexia weren't dormant. I ate immediately upon waking, rather than making myself "earn" food first. I ate in bed. I ate doughnuts. Years of experience had conditioned me to expect self-flagellation after such indulgences. Normally, I would've forced myself to wear my skinniest pants afterward, both to prove that I could still fit into them and as penance, the feeling of the waistband digging into my flesh acting as a reminder that I had erred. Instead, I wore flowy dresses and didn't think to scrutinize my profile in reflections.
My new attitude was rewarded with each pediatric checkup, as our daughter grew in pounds and inches, her percentiles steadily rising. She started to fit into her baby clothes, and what clothes I fit into was of no importance. I looked in the mirror and saw a mother, a woman providing vital nutrition to her child. I didn't poke the soft flesh of my stomach. I forgave my thighs for touching one another in bed. I chuckled at my suddenly enormous breasts. My baby was growing, my milk was flowing and that was what mattered.
This sudden freedom from the tyranny of anorexia may have been brought on by the breast-feeding itself. According to Christie Caggiani, a Florida-based dietitian and therapist specializing in eating disorders, the hormone oxytocin, which stimulates milk letdown, is linked to a sense of calm that can be helpful in mitigating eating disorder-related stress. She also says that breast-feeding provides an opportunity for building relationships and connection, something that's often "painfully missing" for those struggling with eating disorders.
I'd like to say that breast-feeding, and being a mother, was a permanent cure for my anorexia. But after a few months, things changed. The metabolic requirements of breast-feeding outran my food intake and I started to lose weight. This is a well-documented phenomenon — many mothers cite accelerated weight loss as a breast-feeding benefit — but for someone with an eating disorder, it's not an innocuous side effect.
Suddenly, I fit into my pre-pregnancy jeans. Strangers commented that they couldn't believe I'd just had a baby. My anorexia woke up. I began scrutinizing what I'd been doing effortlessly for months, and questioning whether I really needed to be eating so much, gradually subtracting food and adding exercise. Before long, the pre-pregnancy pants didn't just fit me; they fell off me.
The potential reasons behind this shift are manifold. I now had to convince myself to eat for someone who was outside my body, a much more difficult notion to internalize than eating for a human I was growing inside me. Caggiani also says that eating disordered behaviors tend to spike during times of transition, and let's just say that going from a responsibility-free life in Brooklyn to motherhood in Sacramento was not an imperceptible change for me. Carla Manly, a California-based clinical psychologist, told me that "the anxiety-inducing periods of pregnancy and postpartum" often worsen an eating disorder, despite a mother's best efforts to prioritize her newborn.
My husband raised concerns, and I scheduled a call with my old dietitian, in the hopes that she could talk some sense into me. She did, to a certain extent, scaring me straight by telling me that breast-feeding while underweight could set me up for osteoporosis later in life, and that even if I produced enough milk, doing so at a low weight meant the milk could be leaching harmful elements such as mercury from my body.
But at that point, the train was out of the station. I'd decided, with the absurd but impenetrable logic of a person with an eating disorder, how many calories I could eat per day, and I would not exceed that number despite my ravenous hunger, fatigue or loose clothes. That old anorexic exceptionalism exhorted me: you can do both. You can lose weight, exercise through hunger, fit into the smallest size and still give your baby the sustenance she needs.
And for a while, I could. Until I couldn't. When my daughter was just over five months old, my milk production plummeted. There are any number of reasons it happened. We cut out night feedings. We took a five-day trip without my pump. Or maybe it was just my body's natural time to stop — there's no "normal" when it comes to how long a woman produces milk postpartum. Regardless, it became clear that my daughter was not getting the food she needed. When she wouldn't take formula, I panicked. Instantly, the cacophony of eating disordered thoughts silenced and the important things came into stark relief. It didn't matter that my arms looked skinny in a photo — my baby had been hungry. I longed for the poochy bulge of my postpartum belly. I resolved to eat an enormous dinner, as if that would fix everything.
We soon found a formula my daughter took, but those two days of panic made it clear that anorexia had distorted my priorities. As Caggiani says, "believing that breast-feeding alone can be motivation to move someone into recovery is dangerous and misleading."
It is, of course, fine to taper off breast-feeding at five months. Many women never breast-feed, and their babies grow into vibrant, healthy adults. Still, I'm working to get back to the place where I was when my daughter was born, when maternal love and responsibility swept away the clutter of eating disordered thoughts.
I may never get my milk supply back up, and she may never again be dependent on me for sustenance, but if I want my daughter to love and respect her own body, I need to do the same to mine.
Link:https://www.washingtonpost.com/lifestyle/2019/10/14/breast-feeding-is-helping-me-face-my-decades-long-struggle-with-hating-my-body/?fbclid=IwAR2x66BBHOgjs4FVUy6HPwIELK0H6Ux_nBu86Y2vIw0Ld6hkqu0IiQRN78U
October 8, 2019, WPTV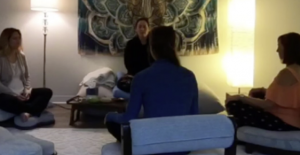 BOCA RATON, Fla. — Stress and anxiety can come from many places, including the workplace.
After seeing a high rate of professionals committing suicide, a Boca Raton clinical psychologist decided to switch up her method.
At Therapeutic Oasis in Boca Raton, it's quiet time.
With the help of clinical psychologist Nicole Davis, women aren't just meditating, they're taking control of their lives.
"Working women, myself included, there's a lot of pressure to be a particular way and it's about acknowledging what our way is and what works for us," said Davis.
It's called mindfulness based stress reduction. In an 8-week training course using breathing and meditation techniques, Davis said the goal is to help people gain self-awareness to be able to deescalate stressful situations.
"I found myself as a single mom with no job, having to support three children and just doing it all on my own," said Lisa Ladomer, who claimed those circumstances started to lead her down a dark path. "My needs fell to the bottom of the totem pool. There were times I laid and bed and think, I can't get up, I can't get up."
That's when a friend stepped in and recommended MBSR.
"I was able to bring that feeling of the meditation into everyday life," said Ladomer. "If I had a call with a client or a run in with a co-worker or something that made me really tense or anxious, I could bring in a little mindfulness practice and kind of on the spot right there in the middle of the workday deal with something."
Now Davis is hoping Ladomer's story inspires others to take control of their stress.
If you or someone you know is going through a difficult time, call the National Suicide Prevention Lifeline at 1-800-273-8255, or click here.
Link:https://www.wptv.com/news/region-s-palm-beach-county/boca-raton/boca-raton-psychologist-offers-strategies-to-control-stress-anxiety?fbclid=IwAR250xs-tAf0rFp73QJUVTDOLKmO8mWOUGK1I1eiIswxTodN_iWqGKcMiTo
October 4, 2019, CBS 12 (Video) Dr. Patty Shutt speaks with CBS 12 West Palm Beach
October 2, 2019, WPTV (Video) Watch Oasis therapist Anni Johnston, MS, LMHC-S, CEDS speak about the pressures faced by students in high achieving environments.