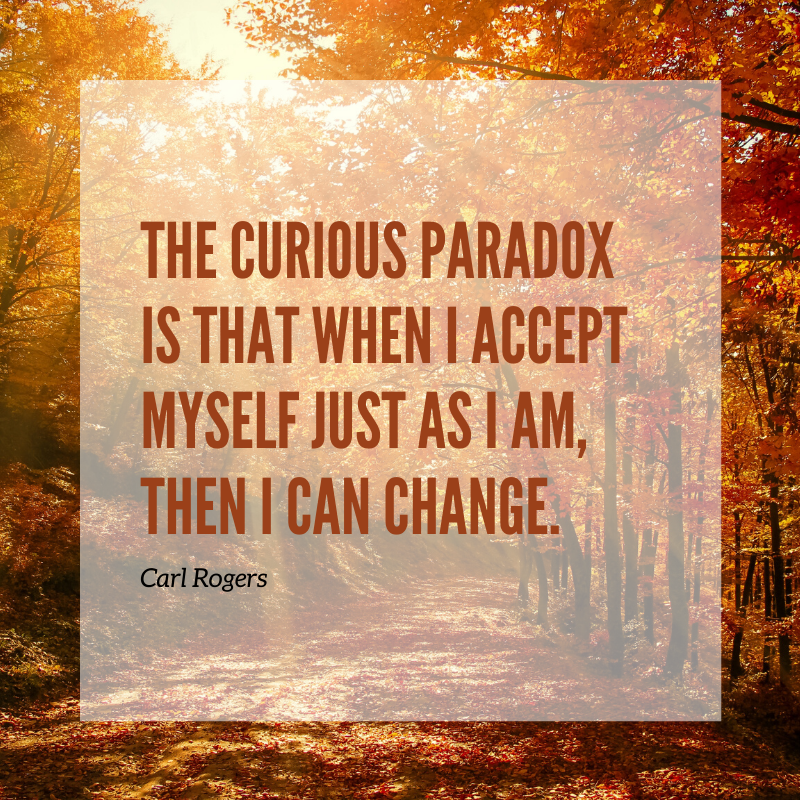 I recently returned from a road trip to Tennessee where I had the opportunity to participate in the magnificence that is fall leaf peeping. As you can probably imagine, a road trip through Tennessee meant plenty of time in the car. While my husband and I had fun listening to podcasts and catching up with each other, there were also many miles spent in quiet reflection. Outside of the hustle of daily life, I had time to reflect.

Themes that flipped through my mind like an old-school Rolodex included resistance (to myself, my abilities, interpersonal relationships, change) and falling out of my practice.

It's that 1-2-3 dance. I move forwards and then I take it all back. Looking at this through the lens of self-compassion, I realize that we all participate in this behavior. Especially if you are living with mental illness or another type of disease. We start to feel better and we quickly forget the steps we took that brought us to this point.

With this realization, I could have easily spiraled into self-criticism.
Why can't I be more disciplined?

How many times do I have to start over?

Shouldn't it just be easy?

The good news is that I didn't go down this path. Instead, I turned to my standbys. This includes carving out time for meditation, daily readings, and journaling. One of my favorite daily readers is The Language of Letting Go by Melody Beattie. October 29 talks about acceptance. Here is an excerpt:

"Resistance will not move us forward, nor will it eliminate the undesirable. But even our resistance many need to be accepted. Even resistance yields to and is changed by acceptance.

Acceptance is the magic that makes change possible. It is not forever; it is for the present moment."

It then closes with:

" Today, I will accept. I will relinquish my need to be in resistance to myself and my environment. I will surrender. I will cultivate contentment and gratitude. I will move forward in joy by accepting where I am today."

I used this closing prompt as a journal exercise, which I would like to share with you:

Resistance: Where are the blocks in my life? What am I resisting? Are there themes to the resistance?

Surrender: What am I willing to let go of right now? In the past, what has helped me to surrender and accept?

Cultivate: Is my life currently in alignment with my values? What do I wish to cultivate and what brings me contentment, gratitude, and acceptance?

Next time you find yourself off the path, practice acceptance. That's where the magic is and that is where change begins.
Sara Goldstein works for Therapeutic Oasis of the Palm Beaches. She edits and designs "52 Weeks of Mindfulness" for Sacred Treehouse. Sara is a writer, reader, and lover of poodles. A true introvert, she enjoys reading, tea, cozy socks, meditation and mindfulness practice.