No Mud, No Lotus: The Art of Transforming Suffering by Thich Nhat Hanh
Sara Goldstein, Staff Writer
The date was Saturday, May 9th, 2015. After my first experience with Dr. Shutt's Mindfulness Based Stress Reduction silent retreat, I immediately drove to Barnes & Noble in search of more literature to keep me inspired. In retrospect, this was not the wisest decision. My car, under the influence of my relaxed mind, glided down Military Trail. As I pulled into the chaotic parking lot, I realized that I was not ready to overwhelm my brain with sensations.   There were too many lights, sounds, and people to navigate.
I gravitated toward the religious shelves and stood before Buddhism. My fingers brushed against Pema Chodron, Deepak Chopra and many titles with the word "zen", stopping at Thich Nhat Hanh. Thich (pronounced like the word tick) is an old favorite of mine. There are countless titles to choose, spanning several decades and many different subjects. Like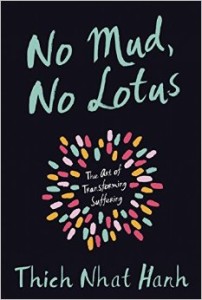 a shark drawn to a shiny object, I picked up No Mud, No Lotus: The Art of Transforming Suffering. The exterior is beautiful, but the words inside are even more exquisite.
Many of us have made it our mission to avoid emotional and physical discomfort. Readers are challenged to accept their suffering, inviting in all unpleasant experiences rather than trying to avoid them through consumption, addiction, or denial. In clear and comforting prose, Hanh explains how we are able to blossom from difficult experiences. The book invites readers to look at their suffering through practicing mindfulness. Many mindfulness techniques are outlined, including breathing meditation, mantras, metta (compassion) meditation, and incorporating mindfulness into daily activities.
No Mud, No Lotus was the perfect companion to my MBSR training. Since it is a quick read, I purposefully slowed down – only allowing myself one chapter per day. As with all of Thich Nhat Hanh's books, I felt like I was having a quiet conversation with a good friend. I imagined a soft-spoken voice reading Thich Nhat Hanh's introductory quote: "Most people are afraid of suffering. But suffering is a kind of mud to help the lotus flower of happiness grow. There can be no lotus flower without the mud." This book brought me gratitude for all of the mud that has helped transform me.