The holidays are here and shopping has begun. At the top of everyone's holiday wish list are electronics. Even our littlest loved ones are enamored with the latest and greatest gadgets. Who could blame them? Our world runs on technology and our kids are part of that world. Whether they are using electronics for school or entertainment, the demand exists. And as every parent knows, finding the right balance for electronics is tricky. How do you give the gift of technology to your child without them turning into zombies?
The most effective step to take when giving your child a phone, iPad or other gadget is to set limits immediately. Yes, that even means the first night they have their new toy!
Here are a few other guidelines to follow:
1. Set time limits. The American Academy of Pediatrics recommends one hour of screen time for children ages 2-5 years old. Consistent time limits should be in place for children over the age of 6. An example would be allowing kids access to their electronic device for 10-15 minutes immediately after school. You can then block out another 10-15 minutes after homework or other school activities are completed. As children grow older, their access to technology will vary based on appropriate behaviors and responsibility.
2. Specify charging areas. Have a designated charging station in your bedroom, not your kid's bedroom. By limiting where electronics are charged, you will help establish boundaries and reinforce time limits.
3. Establish electronic free zones. Create electronic free times for everyone. Ideas include electronic free meal times, family movie nights, and family outings that are focused on relationship building.
4. Monitor online activity. Remember, it's not just your child interacting with the Internet. The Internet is also interacting with your child. Keep track of passwords to all electronic devices, social media accounts, game apps, and other online activities. Start device checks when you kids are young. As your kids turn into teens, routine checks will be something that they are already used to. Check with your mobile provider for monitoring tools, or visit apple.com/families for helpful time management and monitoring suggestions.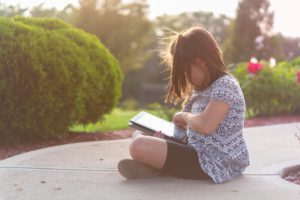 5. Keep activity age appropriate. Be aware of the latest games, social media, and online trends. A quick Google search can give you insight about the apps your kids are using. It's also helpful for parents to have their own accounts on popular sites (Instagram, Snapchat, etc), which will help you monitor and understand how the technology is used. Research which apps are appropriate for your child's current age range.
6. Modeling is key! Children are watching your every move and learning from the example you provide. If you are constantly plugged in, your kids will believe that is the norm. Model moderation and keep the conversation open about technology.
 When it comes to gifting technology, keep Dr. Seuss' the Grinch in mind:
"Then the Grinch thought of something he hadn't before. What if Christmas, he thought, doesn't come from a store. What if Christmas, perhaps, means a little bit more."
The best gift you can give is your presence. Let us all remember to put down our electronics and spend time together with our families. Happy holidays!
Contributor: Stephanie Burstein, MS, LMFT, Licensed Marriage & Family Therapist